The Process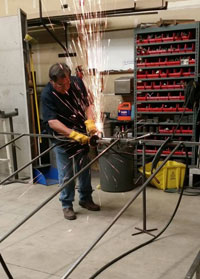 Frame Fabrication
The first step to a custom-made awning is the frame fabrication. We custom make every awning that goes out in our own welding shop.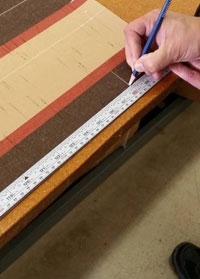 Canvas Shop
After you have chosen your fabric color from the hundreds we have to chose from, it is time to create the canvas top for your awning!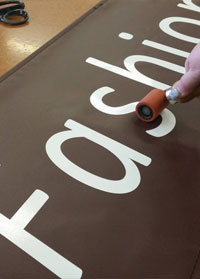 Graphics
Artwork is generally an option for many businesses. We take the time to make sure it is exactly what you are after! When it's ready to be printed we cut, and transfer the graphics in house.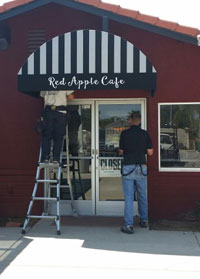 Installation
The final step is installation. Installation starts in our shop when we stretch the canvas onto your frame. Once everything is ready to go, we head out to your home or business and install!
Graphics
Painted Graphics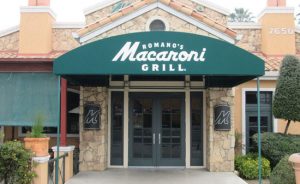 Digital Graphics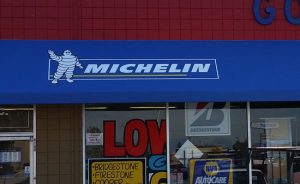 Artwork Guidelines
From start to finish we want to make sure you are getting the exact product you are after. The easiest way to get art files to us is by attaching to an email. We need scalable vectored/ outlined files saved as either Adobe Illustrator (.ai) or an Encapsulated Post Script (.eps). Please be sure the file is not a pixilated or (.jpg) file saved in an (.ai) or an (.eps) format.
To ensure accuracy and avoid delay when reproducing your artwork, we ask that you follow our guidelines. Please make sure the artwork, spelling, punctuation, and phone numbers are all correct.
Unless the logo is very simple to redraw, we cannot work with jpg, gif, tiff, png or psd files.
Fonts
We can offer you a wide variety of fonts, or you can suggest your own.
You can also go to the DaFont Website and let us know the name of the font you like so we can incorporate it into your design.