Shade
We all look for shade to stand in, park our cars in, shade to protect our belongings. We instinctively know that it is cooler there. The simple fact is that we create shade, where and when you need it. But beyond sun control, we can provide an architectural element to compliment your residence.
Solutions
Custom fixed awnings & patio covers are not an "out of the box" product. The fact of the matter is that our awnings are tailored to your specific needs. Our team begins by hand measuring your home and assessing your needs, while guiding you through the selection process, assuring the best possible solution.
Benefits
The benefits of patio covers and many, from lowering utility bills to providing protection for your carpet and furniture from harmful UV rays. Our awnings can create or improve an outdoor living area, while covering your patio for much less than traditional patio systems. Fixed awnings can reduce reflective glare on TV screens and computer monitors.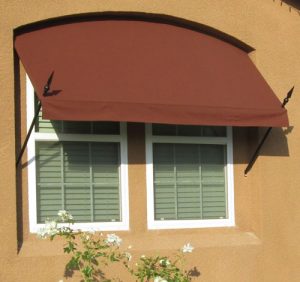 Would you like to see examples of what we can do for you?
Measure
How To Measure For Fixed Awnings
Here are the steps necessary to determine what size your patio cover will be. Follow these steps in order to properly insure the estimation process. Measurements will need to be verified for accurate pricing estimation.
Width
To determine the correct width, measure the width of the window including any window moldings and or trim outside to outside, then add at least 8 inches.
Height
For the height, measure the window including any window molding and or trim. Next, take half of this measurement for the actual height of the awning and now add 6 inches. This is your awning height.
Projection
The measurement for height of the patio cover is the same as the projection, or the distance the awning will project away from the structure.
Swatches
View More Swatch Options